Can you help open
North Chingford's Station Community Hub?
What is it?
Our Hub is at the Overground station, the disused Victorian Station Master's House and Old Station Buffet Room.  (decrepit and general photos here) LNC lease the building from Arriva (Overground operator)- and raised money from Lottery, LBWF and  London Borough of Culture Legacy Grant to bring it into community use, revealing its Victorian Heritage. LNC started work in December after a two year negotiation and we are now weeks away from a staged opening, starting with the Buffet.
What's available?
There's low-cost hire of the ground floor Buffet Room (up to 45) for groups from £18 per hour for first time users, local historical and tourist information, with a dedicated Heritage Room run by Chingford Historical Society. Upstairs there's a co- working room for individuals and microbusinesses away from offices, a meeting room taking up to 20, Zoom room and galley kitchen. The basement (the atmospheric old kitchen with dumb waiter) is to be Chingford's Arts Centre, with displays and workshops, particularly aimed at children, revival of our arts festival and storage for LNC gardeners and cleaners – mostly subject of a separate phase 2 crowdfunding bid.
Why do we need your donations urgently?
We're completing an £100k job for £30k, using a local builder working at cost with huge amounts of volunteer labour. (pics of volunteers) so far 250 hours have been given by 20 heroic helpers, with more DIY to come.  It's ahead of track and on budget, BUT Despite Arriva surveys clearing the building, opening it up produced a huge list of extra expenses – new water supply, roof leaks, blown plaster, rotten joists, complete rewiring and removal of most ceilings due to asbestos!   We managed to absorb some of these, but now have a shortfall of £9,700 to get the ground floor open in the next few weeks.   Spending will be on final finishes to floors and walls, kitchen, workstations, Internet, IT and door entry system.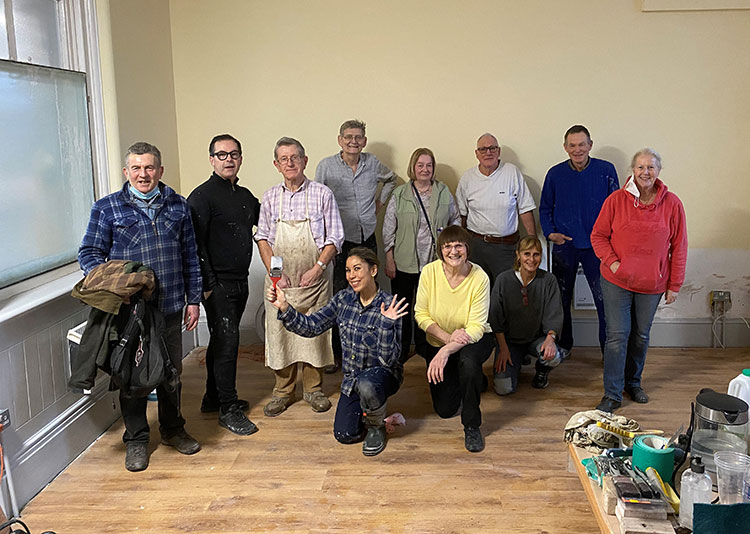 £1,000 already received!
Coming from a magnificent anonymous donation – can you build on this to get us up and running now so we can start generating income?  All donations acknowledged, and those over £100 invited to join our Hub Founders List to be displayed in the building. We'll thank you and keep you informed of the total. Local businesses are welcome, and special low Founders rates apply to users. We hope to have an event for all who have supported, practically or financially.
How to donate:
Pay by Card or Paypal: use the donate button and type in the amount in numbers- software sorts the pounds and pence. i.e £150.50 would be typed 15050.  We still love cash and cheques- to Love North Chingford, 44 Beresford Road London E4 6EE.
If you think you might be a potential user, or have interesting ideas send an email to Roger at northching@gmail.com  and we'll show you around nearer opening.
Thank you for all the great support during the very long haul to make this happen!